THANK YOU!!!
Thank you to everyone for all your help! We greatly appreciate all the volunteers that stepped up to make 'Imagine...' possible for the skaters!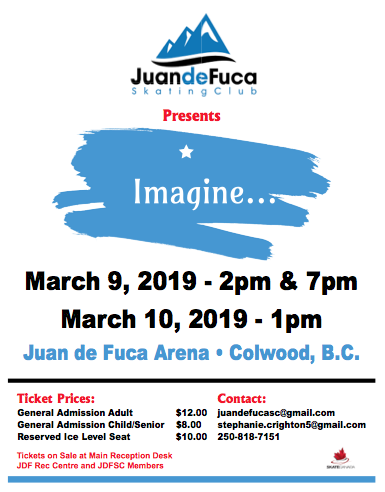 ---
Imagine is a 2hr professionally produced ice show at JDF Arena transformed into a theatre like setting. Experience spectacular lighting, sound, choreography, set and costume design.
One of British Columbia's and Victoria's largest and best ice shows of the year is suitable for all ages. Imagine the British rock invasion of the 60's, under the sea or in New York City.
Just some of the imaginative places we go. Come and let your imagination run wild!
---
JUAN DE FUCA SKATING CLUB ICE SHOW
'IMAGINE…'
MARCH 9th - 2:00pm & 7:00pm
MARCH 10th – 1:00pm
In 2017 the JDFSC presented "SKATING IN COLOUR" to sold out audiences.  This coming March, we once again will be providing an amazing experience for all the skaters of the JDFSC as all levels can have the opportunity to perform in this show.
You will be immersed in a theatrical skating experience like no other!
The arena will be transformed into a 180- degree stage design from ice level to ceiling.  The set, props and costumes will all reflect the theme of the show.
Show lighting and sound will be provided by Pacific Audio Works.
They provide special features such as:
-8 EU 300 watt speakers      - 4 follow spot lights       - mirror ball/fog machines
- 120 feet of box truss to suspend lighting & sound
- 28 Chauvet Colorado's (ice wash to change the colour of the ice)
-15 Martin Mac moving heads (to create colour designs on ice)
Seating for the show will be in the stands as well as at ice level. There will be the opportunity to purchase reserved seating as well.
---
ORDER YOUR "IMAGINE..." DVD AND PHOTOBOOK
(See the "Skating In Colour" Ice Show examples)
To purchase a DVD and Photobook:
DVD ($25): Fill out an envelope and put payment inside and give to Leslee Rushton.
Photobook ($25): Fill out slip and attach payment to the slip and give to Leslee Rushton.
ALL ORDER FORMS NEED TO BE COMPLETED & SUBMITTED BY MARCH 31
---
Occur during regular sessions (skaters are expected to attend their sessions to learn choreography)
All skaters performing in the show are expected to skate in ALL of the following:
Tues. Mar. 5 - Dress rehearsal 5:00-7:30pm
Thurs. Mar. 7 - Undress rehearsal 5:30-7:30pm
Fri. Mar. 8 - Lighting rehearsal 4:15-5:45pm
Sat. Mar. 9 - 2:00 & 7:00 pm show times
Sun. Mar. 10 - 1:00 pm show time
ALLERGY ALERT!!!
NO NUTS OF ANY KIND ALLOWED IN DRESSING ROOMS
THANK YOU.
IMPORTANT REHEARSAL & SHOW SCHEDULE INFO:
Rehearsal schedules (Mar. 5, 7, 8)

Rehearsals (to wear & bring, etc..)

Costumes 

Check in/ out 

Dressing Rooms
---
Please see the file below for 'Frequently Asked Questions'...
---
CALLING ALL VOLUNTEERS!!
We are in need of more volunteers for security for the rehearsals and shows. Please help us ensure a fun and safe experience for the skaters. Sign up today!
 You do not want to miss out on your chance to be involved in this spectacular show!!
Parents and guardians please sign-up to volunteer for the show!
Volunteers are a vital part of any club. JDF Skating Club is run by volunteers and help is always appreciated. The success of our club is a result of the involvement and time invested by our volunteers.
In 2017 "Skating In Colour", many parents after the show wished
that they had been more involved and helped out because the show was amazing!!
---
Times of ticket sales:
Mondays 5:30-7:00pm   Thursdays 5:30-7:00pm   Fridays 5:00-6:30pm
PRICES:
General Admission Adult                      $12.00
General Admission Child/Senior            $8.00
Reserved Ice Level Seat                      $10.00
CONTACT:
juandefucasc@gmail.com 
stephanie.crighton5@gmail.com
250-818-7151
Tickets on Sale at Main Reception Desk
JDF Rec Centre and JDFSC Members
* Please note *
* Children under 3 sitting on lap in General Admission area do not require a ticket.
* Children on lap is not allowed at ice level in Reserved Seating section. 
 
* Adult age 12 and over; Child under age 12; Seniors age 60+ 
CONGRATULATIONS TO OUR TICKET SELLING CONTEST WINNERS!!!
1st   Ariana Robertson
2nd  Opale Adamek-Drolet
3rd Raeana Gamboa
4th Jamie Page
5th Alexandra Hargrave
6th Kaylee/Leela Toghill
---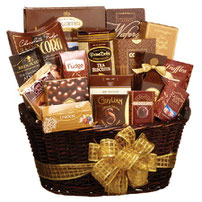 Gift Baskets
We will be raffling off Gift Baskets during the Ice Show. We are asking that all skating groups
donate different items for these baskets.
Below is a list of baskets that your group is responsible for.
CanSkate/ Pre-Power:
Pamper Mom /  Gardeners  /  Health & Fitness
Pre-Junior:
Figure Skaters  /  For the Golfers  /  Chocolate Lovers
Junior:
Dad's Grillers Delight  /  Coffee Lovers  /  Fun in the Sun
Int. Star 2:
Sports  /  Baker's Dozen  /  Traveller's Essentials
Int. Star 3:
Smore's Night  /  School Supplies  /  Beauty
Senior:
Entertainment  /  Sweet Treats  /  Pet Favourites
We are also looking for donations of baskets and gift boxes to put these items in.
We will be collecting gift basket items until Feb. 22.
ITEM DROP OFF: @ JDF Arena Mondays/ Thursdays before 6:30pm
If you have any questions regarding the gift baskets please contact:
Amanda Ingram [amandaingram@live.ca]
---
"IMAGINE..." ICE SHOW SPONSORS
Please attach your business artwork and cheque to this form and drop off to the arena at any club session to Larry or Dale before Jan. 24, 2019. If you do not have artwork, a business card will be sufficient to provide you with an advertisement. 
Ad Contact:
Dale Robertson - Email: druvssgm@gmail.com OR Larry Rushton # 250-818-7151, Email: lrushton@telus.net 
Thank you to the following for sponsoring our Ice Show:
GOLD ($500.00)
Listco Landscaping and Irrigation

Coastal Community Credit Union

Ryan Muralt Roofing Ltd.

Bakertilly/ Todd Troyer

 
SILVER ($250.00)
Tower Fence Products

Westshore Dental

Kersten Orthodontics

Peninsula Co-op

Club Phoenix

Langford Lanes

Royal Bay Bakery

 
BRONZE ($125.00)
M2 Graphics

Saseenos Veterinary Clinic

The Keg  (Lani Moak)

Westin Bear Mountain 

Wilson Marshall Law Corp

Fennels RV 

Tutoring with a Twist

Belmont Collision

Sands Funeral Home

Hatley Memorial Gardens

Community Meal Prep 

Spaghetti Factory

Mango Thai Restaurant

 

 
BUSINESS CARD AD IN PROGRAM ($50.00)
RBC - Todd Olynyk
RBC - Tony Preziuso
RBC - Bobbi True
Mary Jane Howland Photography
Outlooks Menswear
FRIEND OF THE COMMUNITY ($25.00)
Lemire Family
Robert and Carol Streeter
---
---
Event being held @ the
Juan de Fuca Arena
Juan de Fuca Arena
1767 Island Highway
Colwood, BC
Wheel chair accessibility

Reserved Seating at ice level

Parking available close to the rink entrance